Our Story
Trine Environmental, Inc. was founded in 2012 by Mr. John Rogers (John) under very interesting circumstances: He was approached separately by two friends in the same week of February 2012 asking if he had ever considered opening his own environmental company. After all, both friends knew about his military background, that he holds a Masters of Science in Environmental Geology, his diverse field leadership assignments with his previous employers and his desire to work almost strictly on federal projects. What they did not know was how quickly he would make it happen. By May of 2012, John had TRINE incorporated and ready for business. By December of 2012, Trine received its Center for Veteran Enterprise Verification as a Service Disabled Veteran Owned Small Business AND won its first federal contract with the Veterans Administration!
John served in the US Army for 7 years, was pursuing a military career in the Special Forces and had successfully graduated in the top of his Primary Leadership Development Course before sustaining career ending back and chest injuries.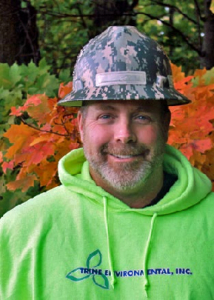 John Rogers
Owner / Founder
Trine Environmental Inc.
Our Target Market
We are a company that stresses our main client targets are quite simply the US Army Corp of Engineers (USACE), the Navy Facility Command (NAVFAC) and the Veterans Administration (VA).
We believe that:
1) We have the expertise as a SDVOSB to meet the needs of projects within our primary NAICS code of 541620
2) We have and will continue to develop strategic alliances with other socioeconomic disadvantaged business to compliment and/or support our team
3) We will gain the support of large businesses to develop a win-win situation for our team and the client
4) We will not fail; we know the path we want to take……………..
Definition of TRINE
T – Truth
R – Respect and
I – Integrity for the
N – Natural
E – Environment
TRINE's Business Philosophies
John used the Army's 11 Principles for the foundation of his business philosophies:
Principle #1 – Know Yourself and Seek Self Improvement Develop a plan to keep your strengths and improve on your weaknesses.
Principle #2 – Be Technically Proficient Not only do we know our duties and responsibilities, we know all those of our team members, and we look to our leaders and concern ourselves with learning their duties and responsibilities.
Principle #3 – Seek Responsibility and Take Responsibility for Your Actions We are not satisfied with performing just our duties to the best of our abilities, we look to grow and seek further challenges, and always, when in charge, accept the consequences of our decisions, absorb the negative and pass on the praises.
Principle #4 – Make Sound and Timely Decisions Leaders must be able to reason under the most critical condition and decide quickly what action to take.
Principle #5 – Set the Example No aspect of leadership is more powerful. Our personal example affects people more than any amount of instruction or form of discipline. We are the role model.
Principle #6 – Know Your Personnel and Look Out for Their Well Being Leaders must know and understand those being led. When individuals trust you, they will willingly work to help accomplish any mission.
Principle #7 – Keep Your Followers Informed Our team members expect us to keep them informed, and where and when possible, to explain the reasons behind requirements and decisions. Information encourages initiative, improves teamwork and enhances morale.
Principle #8 – Develop a Sense of Responsibility In Your Followers The members of a team will feel a sense of pride and responsibility when they successfully accomplish a new task given them. When we delegate responsibility to our followers, we are indicating that we trust them.
Principle #9 – Ensure Each Task is Understood, Supervised and Accomplished Team members must know the standard. Supervising lets us know the task is understood and lets our team members know we care about mission accomplishment and about them.
Principle #10 – Build a Team Leaders develop a team spirit that motivates team members to work with confidence and competence. Because mission accomplishment is based on teamwork, it is evident the better the team, the better the team will perform the task.
Principle #11 – Employ Your Team In Accordance With Its Capabilities A leader must use sound judgment when employing the team. Failure is not an option. By employing the team properly, we insure mission accomplishment.
Next Steps…
We'd love to hear from you. Contact us today to see firsthand our highly responsive and competitive turn-key solutions to environmental, geotechnical, construction and disaster response issues.